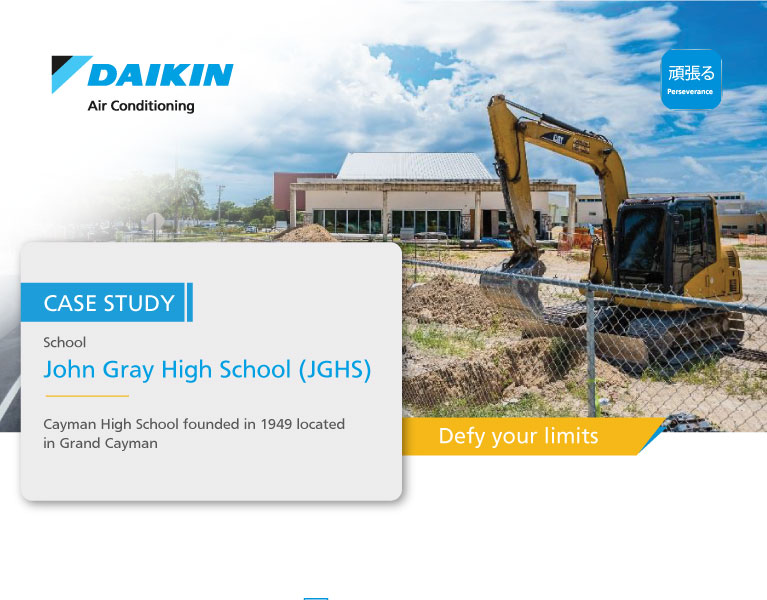 John Gray High School has become a perfect example of how a design focused on the well-being of students and staff can result in an environment that creates the perfect setting for the right education.
Commercial Ally
Cayman Mechanical
Project
John Gray High School
Location
Grand Cayman, Cayman Islands
Project Date
December 2020
Issue
Replace older and smaller chiller for an expanding building.
Solution
Daikin Pathnder® - Packaged Air-Cooled Screw Chiller
THE SOLUTION
---
Focused on basis of design (BOD), this represents an immense advantage to Daikin. By working directly with the consultant, the end customer receives only rened information to the point of a comprehensive approach for completion and acceptance. A high efciency Daikin Pathnder chiller was chosen to reduces electrical energy consumption and costs. In addition, the Pathnder chiller uses HFC-134a refrigerant, which has no ozone depletion potential. This solution provided benets to the end user, while satisfying all technical needs of new and preexisting conditions.
THE RESULTS
---
Increased capacity of existing chiller from 250 TN to 300 TN, with UL certication. Excellent results in the relationship with Cayman Mechanical and their end customer John Gray High School. These types of facilities open doors for new projects, these upgrades and redesigns are expected to increase educational opportunities for Cayman's youth, as well as business opportunities for Daikin allies.
About COVID-19
This project was completed during the outbreak of the COVID-19 pandemic which led us to a sudden shift in the dynamics of our workforce behavior. A lot of companies were bound to rush towards work from home including ours, so we decided to make arrangements in an extremely short period to address the urgency of this project. Ironically, COVID-19 gave us an additional push to make this challenge a well-accomplished project. At Daikin we are convinced that supporting our partners with effort and talent allow us to achieve any goal.
Engineer in charge Maria Eugenia Medina
Maria-Eugenia-Medina-1306